PATRICK VINCENTI – HARFORD COUNTY COUNCIL PRESIDENT
ABOUT PATRICK S. VINCENTI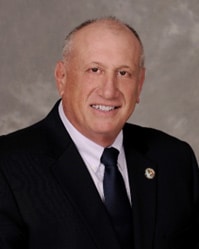 Council President Patrick Pat Vincenti leads the seven member Harford County Council. He was first elected as the District E representative in 2014 and four years later the citizens of Harford County overwhelmingly elected Pat to the Office of Council President.
Pat is known throughout Harford County as "Compassionate Conservative" and a leader who rolls up his sleeves and works hard for the citizens of our County.
As Council President, Pat has taken the lead in revitalizing the route 40 corridor in the southern portion of Harford County. He has brought together stakeholders and facilitated positive development and changes that have improved the local economy and quality of life.
Public Safety is a passion of the Council President. Pat and his wife of 47 years, Jeannie, are strong supporters of our local law enforcement agencies and volunteer fire & EMS companies. Pat works closely with Law Enforcement Leaders and Volunteer Fire & EMS Companies to ensure our public safety professionals have the tools and support necessary to keep Harford County one of Maryland's safest places to live.
There is no challenge or issue that Council President Vincenti will not address or take on if it will improve the lives of Harford County residents. The citizens of Harford County are fortunate to have a leader like Pat Vincenti serving our community.
Patrick S. Vincenti is a life-long resident of Harford County. He was raised in Havre de Grace by his mother, Bernadine Vincenti, where he attended Harford County Public Schools and graduated from Havre de Grace High School in 1972.
Pat and his wife Jeannie recently celebrated their 47th wedding anniversary with their two daughters Loren and Patricia, five grandchildren and continue to live in Churchville.
He is an accomplished Upper Chesapeake Bay style decoy carver for nearly 50 years. Together, he and his wife Jeannie own and operate a small business, Vincenti Decoys, which is based out of their home in Churchville. In 1994, they expanded their business to include a brick-and-mortar location in Havre de Grace where they offer a great selection of waterfowl related gifts, collectibles, antiques and decoys carved by Pat and other local carvers.
Pat is active in the business and non-profit communities and values Harford County's long-standing tradition of giving back. He is a member of the Aberdeen, Havre de Grace and Harford County Chambers of Commerce, Society of Italian American Businessmen Aberdeen Rotary Club and Harford County Sheriff's Office Foundation. His service also extends to include 30 years of involvement with the Havre de Grace Decoy Museum Board of Directors and 25 years as a Board Member with the R. Madison Mitchell Trust.
Patrick S. Vincenti was first elected to the Harford County Council as the representative for District E in 2014 and in 2018, he was elected to serve as County Council President. He is a 2015 graduate of the Harford leadership academy and 2017 graduate of the University of Maryland Academy of Excellence in Local Governance.
In his nearly eight years in office, Pat continues to serve on numerous boards and commissions representing the Council, including the Local Management Board, Department of Social Services Advisory Board, Harford County Chamber of Commerce Legislative Committee, Harford County Sheriff's Office Community Board, and the ARC Northern Chesapeake Region Board.
In addition to these service opportunities, Council President Vincenti is the Chair of the Harford County Board of Health and the Adequate Public Facilities Advisory Board while also belonging to the Personnel Committee for the County Council and the Audit Advisory Board.